By Ann K. Williams
Staff Writer
December 7 -- Children laughed as they fell and frolicked on the ice, couples skated hand in hand and friends toasted the holiday season with peppermint hot chocolate as renowned skating star Sasha Cohen delighted Thursday's Downtown crowd with a glittering performance.
It was all part and parcel of the opening ceremony for Ice at Santa Monica, an ice rink open to all during the holidays, located at 5th Street and Arizona Avenue, sponsored by Starbucks Coffee Company and the Bayside District Corporation.
Olympic Silver Medallist Cohen spins on the ice. (Photos by Ann K. Williams)
"I'm very pleased that Starbucks partnered with the City," said Mayor Herb Katz, whose appearance at the opening marked his "coming out party" as mayor. "It's a nice marriage between the Bayside Corporation, the City and Starbucks."

Katz noted that 5,000 people have skated at the rink during the past two weeks.
"There's a community there, people ice skating, sitting around drinking coffee, eating a hot dog, talking with their friends," Katz said. "It's like Starbucks," a perfect holiday gathering place for Santa Monica, he said.
Katz was there to introduce Olympic Silver Medallist Cohen, who was joined by U.S. Men's Champion figure skater Evan Lysacek to help Starbucks promote P.S. ARTS, a non-profit organization dedicated to restoring arts and music education in the public schools.
They were joined by more than 100 children, many from McKinley Elementary School, who came in busloads to share in the fun and learn to skate.
Graceful and poised, Cohen offered this reporter a cup of peppermint mocha -- an impossibly sweet concoction topped by whipped cream, red sprinkles and chocolate syrup spirals -- before answering questions, as if to put the interview on a friendly basis.
"I'm excited to be working with Starbucks and P.S. ARTS," Cohen said. "It's such an important opportunity to give the kids a chance to express themselves, to give them a bigger world and a bigger horizon."
Cohen said she sees herself as an artist first, bringing her love of music, dance and theater together with her natural athleticism in figure skating.
A Southland native, Cohen lived her first year in Santa Monica, then Westwood, before settling in Newport Beach. But she spends eight months out of the year traveling, making appearances like Thursday's and appearing on television shows and commercials and in movies.
"I have to get into airport mode," she said of the grueling schedule she maintains to support her dream of competing in three Olympic Games -- her third being the 2010 Olympics in Vancouver. During the holiday season alone, she'll be appearing in Canada, San Francisco, Russia and Japan.
As Cohen gave press interviews, Lysacek was busy getting to know the kids. He'd offered to give them free skating lessons, and they were eager to join him on the ice.
Once the gate to the rink was opened, the air was filled with whooping and giggling as the kids darted, staggered, made 10-kid trains and tried to twirl like ballerinas.
Lysacek gave the young skaters turns around the rink on his arm, while parents coaxed their gleefully smiling toddlers across the ice.
An East Indian girl with a long black braid down her back held her arms gracefully outstretched and took tiny steps around the edge, while a little boy, not more than five, darted like Wayne Gretsky through the crowd, completely ignoring the counterclockwise flow of the older skaters.
And oblivious to it all, one Westside matron in jeans and a blue sweatshirt chatted on her cell-phone as she sedately skated along.
"It's been really cool lending a helping hand to such a worthy cause," Lysacek said during a break in the action.
Evan Lysacek escorts a young skater around the rink.
Immersed in the rounds of competition, "a lot of times we lose...the enjoyment of skating as an art form," he said. "When we go on the road, it's a whole different game, no rules to play by."
Unlike Cohen, he's mixing his appearances with competition this year. In the next few months, he has three major competitions coming up including the U.S. Nationals which he won last year and the World Championships in March.
But he had time Thursday to join the audience for Cohen's performance, the high point of the afternoon for dozens of little girls who'd come to see her and imagine themselves as fairy tale spangled dancers on the ice.
As she glided out in a bright red sparkly costume they held their breath, letting it out in "ooohs" as she leapt into the air and as she performed her signature "I" spiral -- a one-legged spiral with the other leg pointing straight up.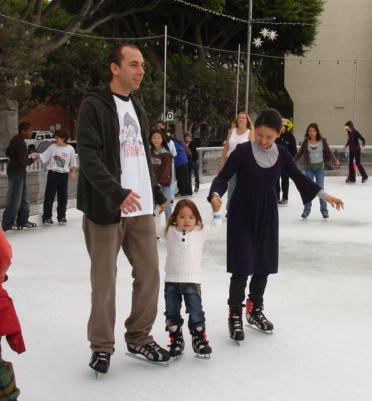 Couple and their little daughter on her first day on the ice.
When the magic was over, Cohen skated over to the sidelines, shook hands, and gave autographs.
Though Thursday's show is over, Santa Monicans and their holiday visitors have through January 6 to enjoy the ice. Admission is $10, including skate rental, and the rink is open daily.
For more information, see the Ice at Santa Monica website. http://www.thirdstreetpromenade.org/calendar/icerink.html