By Olin Ericksen
Staff Writer
April 3 -- Legislative action promised by a ranking U.S. Congressman Monday could open a new front in a controversial campaign to house a seemingly growing population of homeless veterans near Santa Monica.
Congressman Bob Filner (D-San Diego), Chairman of the U.S . House Committee on Veterans' Affairs, told The Lookout Monday that he will push Federal officials to use three West Los Angeles Veterans Administration buildings to treat and house homeless veterans.
The move comes after Department of Veterans Affairs Secretary James Nicholson has failed to act on the two-year-old proposal, despite pressure from some Southern California elected officials to restrict use on the site to help the County's estimated 22,000 homeless veterans.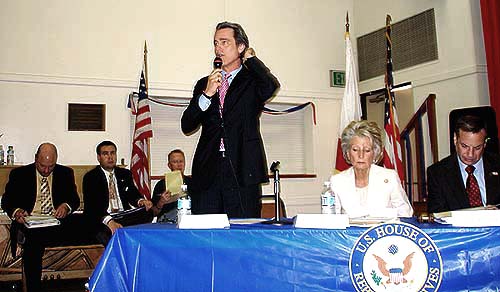 From left: Council member Bobby Shriver, Congresswoman Jane Harman and Congressman Bob Filner. (Photo by Olin Ericksen)
"When I get back to Washington, the first thing I'm going to ask Secretary Nicholson if they will (reclassify the buildings) administratively," Filner said after an emotional West Los Angeles forum packed with veterans demanding better services.
"If they don't," he said, "then we'll draft legislation, and it's as simple as that."
Political support for the plan could be building in the wake of growing scandals over the treatment of patients at the VA's faltering flagship center in Washington D.C. and an alarming trend of younger veterans ending up on the streets.
Filner said that while turning the buildings over to private companies is still an option for Nicholson, a 2004 Bush Administration appointee, he and his Democratic colleagues in a new majority in Congress will fight to restrict their use for veterans, especially those on the streets.
"We are worried there is a chance that the buildings could be used by private companies, but we're not going to let that happen," he said. "We have a facility, and it is going to be used for veterans."
Publicly he told the crowd that served in American conflicts ranging from World War II to Iraq and Afghanistan, that he will do "whatever it takes" to support the lease change to help scores of homeless veterans in the area.
While nearby homeowners in Brentwood have been vocally critical of the plan, Santa Monica Council member Bobby Shriver -- who has worked extensively for the project and taken several trips to Washington D.C., including one on March 26 -- hopes Filner's presence and words will jump-start the languishing land-use proposal.
"For him to get out here and see the buildings, to meet the officials of the Westside Veterans Administration, it says to me he looks forward to trying to help us and it is a big step," said Shriver, a two-year council member who has adopted homelessness as a key issue.
Shriver sat next to U.S. Congresswoman Jane Harman, who chaired the hour-long question and answer session that saw intermittent shouts of "it's a shame" hurled at the panel as it tried to address larger concerns about resources and management at the strained Veteran facilities in Westwood.
Crowd at veterans forum
Filner's public remarks and Harman's presence gave Shriver hope other Congressional California Representatives, such as U.S. Congressman Henry Waxman, and U.S. Senators Diane Feinstein and Barbara Boxer, would also weigh in on the issue.
"I feel like we are making progress with federal officials," he said after the meeting. "I think if (Nicholson) sees a united front of political leadership here for the homeless vets, he will act."
Whether there are more veterans living on the streets of Los Angeles County or fewer is a source of some debate.
Greater Los Angeles is thought to contain 11 percent of all 200,000 homeless veterans nationwide, according to VA statistics cited by the veteran homeless service non-profit, New Directions.
LA County is believed to harbor one of the largest homeless veteran populations in the nation, representing 25 percent of the 90,000 individuals who sleep on the county's streets and shelters each night.
In Santa Monica, homeless veterans are thought to account for 10 percent of the city's estimated 2,800 homeless individuals, according to study results from consultants at the Urban Institute in Washington, D.C.
The National Survey of Homeless Assistance Providers and Clients estimates that 23 percent of the nation's estimated 750,000 homeless are veterans.
While veterans seem to account for a small segment of Santa Monica's homeless population, Shriver said this issue is still vital one.
"Homelessness is a regional issue, and the more vets who are sleeping on the beach or stuck sleeping in Skid Row, if they sleep and get medical attention at the VA, that's a regional issue," he said.