Ashes and Snow™ in Santa Monica
By Ann K. Williams
Lookout Staff
January 4 -- At a cost of $6 million and climbing, a 56,000-square-foot recyclable temple to the arts -- one man's art anyway -- is taking shape next to the pier, where it will open to the public in less than two weeks.
Architect Shigero Ban's monumental structure of cargo containers, cardboard tubes and a million tea bags will house Gregory Colbert's ten by ten foot photographs of children, women and the artist communing with wild animals in an ecopolitical statement of harmony between humans and nature.
"In exploring the shared language and poetic sensibilities of all animals, I am working towards rediscovering the common ground that once existed when people lived in harmony with animals," Colbert said in an ashesandsnow.org press release.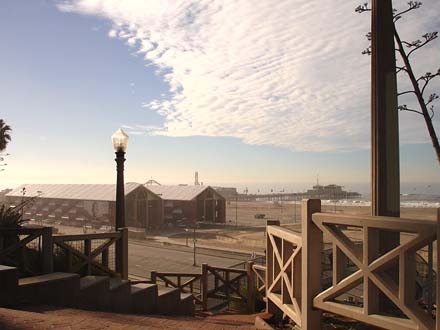 Photo by Ann K. Williams
Santa Monica is happy to welcome a "great cultural event," said Open Space Manager Elaine Polachek, attributing the exhibitor's choice of the beachside city to "luck and timing."
Ashes and Snow™ approached the City more than a year ago with its offer to follow Venice, Italy and New York -- where the show drew more than 500,000 visitors. The list of venues also includes Beijing and the Vatican.
Colbert "wanted it to be adjacent to the ocean," Polachek said. "He fell in love with the spot."
The exhibitors are paying the City $450,000 to lease the beach parking lot, money which will go into the beach fund, Polachek said.
Ticket proceeds will go to Colbert's Flying Elephants Foundation, which gives money to environmental charities, as well as paying for the artist's expenses, according to Louise Errington of C4 Consulting, the public relations firm representing Ashes and Snow™ in Santa Monica.
Flying Elephants Fellowships have been awarded to ten individuals --none of them Colbert -- "whose work inspires a reverence for the natural world," according to www.flyingelephants.org
The show is being subsidized by Rolex.
"It's not a cheap undertaking," Errington said.
The Venice and New York shows were organized by another nonprofit foundation created by Colbert, the Bianimale Foundation, widely described by the New York press as a nonprofit organization that "encourages artistic endeavors to increase public support for the protection and conservation of animals and their natural habitats."
While a cached copy of an Ashes and Snow press release dated March 5, 2005 refers to the Bianimale Foundation, no mention of it is found in their current website or press kit. Last May, Metropolis Magazine, a New York publication, claimed that the Ashes and Snow website was the only source of online information on the foundation.
Colbert has been traveling around the world with his retinue for the past 14 years, stopping over occasionally in his Manhattan loft, a crosstown flat and a triplex in Paris where he is said to live "monastically," according to a March 2005 New York Times article.
Wednesday morning, cranes and massive forklifts were crossing paths in and out of the three empty galleries as construction costs mounted at the site.
Though the "Nomadic Museum" was designed to be recyclable, New York builders erred and welded the structure together, so it had to be "trashed," according to Santa Monica site Superintendent Bob Meeks of RMS Group General Contractors.
The greatest challenge now is how to "design it at the same rate you're trying to build it," Meeks said.
Since they didn't get to use the New York structure, they have to draw up plans as they go along, plans they hope the Beijing contractors who follow them can use, he said.
They're making a structure that "comes apart piece by piece," Meeks said, so that the exhibitors ought to be able to send it from site to site as originally planned.
Colbert has visited the site, and is "great" to work with, Meeks said. "He's really impressed with what we've done."
The show itself has received mixed reviews.
"In these photographs . . . the animals and the people seem to move in a cosmic dance filled with rhythmic and visual beauty that breaks out of the mundane world of classifications, of 'us' and 'them,' and into the sublime," Camera Arts raved.
Roberta Smith of the New York Times was more critical.
Calling Ashes and Snow a "spectacularly vacuous exhibit," Smith said the pictures of the white, bare-chested Western adventurer/artist surrounded by images of beautiful non-Western women and children cavorting sensually with wild animals proved that "while colonialism may be dead or dying, its tropes are ever with us."
Santa Monicans will be able to judge for themselves, starting January 14, when a $15 ticket will admit them to three galleries filled with Colbert's photographs, his film narrated by Laurence Fishburne and illuminations Colbert's fictional letters to a wife. On their way out, they can spend more at the Ashes and Snow™ bookstore.
The Los Angeles Unified School District and the Santa Monica-Malibu School District plan to bring 300,000 school children from throughout the County to view the exhibit free of charge, according to Errington.