By Zina Markevicius Kinrade
August 11, 2014 -- Item number three on my bucket list was to bake a pie. With item one to get married and item two to have a baby, the pie was an easier challenge, thanks to a great baking class.
That lesson on summer pies convinced me that in-person tips from professional chefs could empower me to tackle recipes I had found intimidating. Since then, I have taken a number of classes in the Los Angeles area, most recently "Great Grilled Seafood" at Sur La Table, and successfully expanded my cooking repertoire.
While the Santa Monica outpost of Sur La Table does not offer classes, the Grove site in Los Angeles does. Themes include ethnic cuisines, vegetarian recipes, sauces, meats, desserts and "date night" cooking.
Lessons are offered nearly every day, both day and evening. As my sister-in-law Maria is a pescatarian and I am terrified of the grill, we decided to give grilled seafood a try.
Classes are held in a large room at the rear of the store with chairs for lectures and a fully working kitchen for hands-on learning, complete with multiple gas stovetops, ovens, sinks, and lots of counter space.
Our group of ten gathered on a Tuesday evening to hear from the store's assistant resident chef, Adnan Ibrahim, who was accompanied by two helpers. A former restaurant chef, Adnan was relaxed and entertaining, and the small group allowed plenty of one-on-one attention.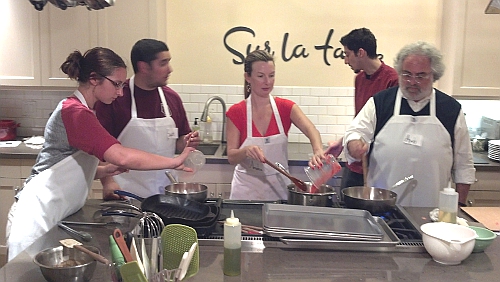 The baking class was a delicious experience. Photo by Zina Markevicius Kinrade.
We jumped right in to start preparing ingredients for grilled mussels with garlic and white wine butter, the first of four recipes. Our teacher gave us a quick primer on how to hold a knife and passed on tips for mincing shallots and peeling garlic.
With that information, the class was already worthwhile, as I learned I would damage the new knife set I had at home on a plastic cutting board. Adnan also discussed how to buy and clean the mussels, which instantly changed my view of the restaurants where I will order the dish, given the importance of freshness.
The teacher outlined each step for grilling mussels, and students received copies of all the recipes to take home. For the classroom lesson, we cooked the dish in stock pots on the stove top burners, which for us at home, was a more likely method anyway.
Maria and I were paired up with two cheerful brothers to work on the dishes and share the tasty results. The plump mussels were soft and flavorful, but the rich, bright sauce finished with dry white wine was the highlight.
Next, the group tackled spicy shrimp skewers with tomato salsa. The chef's personal instruction on coring, seeding, and cutting the plum tomatoes benefitted each student. He provided feedback to those of us struggling to follow his expert lead, and this one-on-one help is the main reason to take a cooking class in person, rather than following written directions or online videos.
As we cooked the shrimp on stove top grill pans, he shared further tips on dealing with the bamboo skewers when they sometimes lit on fire and how to ensure the shrimp cook evenly.
The group had a mixed response when tasting the dish. Some enjoyed the earthy spices, including freshly ground cumin, coriander, and caraway seeds flavoring the shrimp, while others preferred the lighter touch of garlic and shallot in the warm tomato salsa.
Himalayan salt slab scallops with honey-peppercorn glaze were next on the agenda. This recipe was the only one to feature unusual cooking equipment. The salt slab is a thick pink rectangle made of salt, though the scallops we prepared on it did not taste any different to me than pan seared.
More advanced home cooks were allowed to try out new equipment, but it was an unnecessary luxury for me. I was not going to buy a salt slab to use at home.
I learned this lesson from a past class in pasta-making, when I took the short break to enthusiastically buy a pasta roller which I have never taken out of the box. So I focused on the tangy dressing, made with lemon juice, lemon zest, honey, olive oil, and fresh basil and appropriate for pan-seared shellfish as well.
The last dish was grilled salmon with dilled mustard glaze, and Adnan reviewed how to buy different types of fish, how to use a fish spatula, which grill pans to use, and of course, techniques for grilling.
My favorite bite of cooked fish is a crispy skin, and his recommendations on how to handle the salmon have improved my results at home. We enjoyed the creamy mustard sauce served over the thick cuts of salmon, and we all cleaned our plates.
Interesting and varied recipes with a friendly and professional instructor made the class worthwhile. The setting is also more open than other cooking schools, providing for more elbow room for hands-on practice as well as seated lectures.
Sur La Table instructors encourage a light-hearted atmosphere, and that makes the experience more fun whether students come alone or with a friend.
However, it was difficult to take notes. While the recipes were provided at the start, the lesson was hands-on throughout. To write something down, I had to step away from the kitchen, wash my hands, grab a pen, take a note, and wash my hands again before returning to my cutting board. All the while, the instructor was sharing more information that I did not want to miss.
I have added more fish to my cooking routine since taking the class but have not yet tried the mussels. You may see me buying up a bunch at Santa Monica Seafood this week and going for it!
For more information on cooking classes at Sur La Table, visit http://www.surlatable.com/category/cat2211278/Cooking+Classes.