By Zina Markevicius
For The Lookout
July 10, 2014 -- I am not a big art lover. While I enjoy an occasional visit to an art museum, I will pause at the Van Goghs and breeze by most of the modern exhibits. An annual pilgrimage to LACMA is enough for me.
Yet my hometown of Santa Monica is full of sophisticated art lovers, who understand the history, ponder the subtle meanings and appreciate new techniques. Luckily, our Bergamot Station Art Center is for everyone.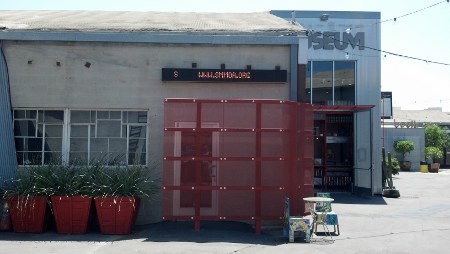 Photo By Zina Markevicius
Home to a collection of galleries and the petite Santa Monica Museum of Art, Bergamot allows visitors to pop by for a few minutes or spend the whole afternoon immersed in paintings, photography, and more. Current exhibitions are particularly friendly for casual viewing, as they include the bright and colorful, as well as the somber and surprising.
Converted industrial buildings house the galleries, which are free to visit and open Tuesdays through Saturdays. The number of galleries here makes the experience unique.
If one subject or media is not compelling, next door there is something different. As a result, the complex can feel like a large museum with an array of offerings.
There is an official museum at the complex, the Santa Monica Museum of Art, which is currently showcasing three exhibits. Andrew Canon: Chemical Computer is a series of experiments using commercial materials, while Nonfictions: Jeremiah Day/ Simone Forti/ Fred Dewey is a video collaboration of the three artists.
The most universally appealing exhibit at the museum is Robert Swain: The Form of Color. The artist has focused his career on cataloguing and expressing colors, and he presents them in this site-specific installation as large walls made up of perfect painted squares of gradating color, like rectangular rainbows made of boxes.
The spacious industrial room is softened by natural light from rooftop windows and the colors on every wall. The colors, space, scale and light combine for an uplifting and cheerful experience.
In contrast, the exhibit at the Shoshana Wayne Gallery on the other side of Bergamot is dark and threatening. Artist Michal Rovner uses video for a strong effect in Nofim.
Visitors are first drawn to a large, quiet room blocked from light. Two projections on opposite walls depict vague, shadowy expanses, as rows of small black figures walk and walk. It feels like a death march. A deep, humming sound fills the space. Unfortunately, construction of the new light rail outside interferes.
Rovner's smaller pieces displayed nearby are surprising. At first glance, in the brighter space, they may be mistaken for paintings of similar landscapes and lines of walkers. Yet the shadow figures walk here too, as the presentation is actually two conjoined LCD screens.
The smaller scale encourages closer examination of the sad men and women, some in coats, some carrying briefcases. Who are they? Where are they going? What has happened in this oppressive, barren world? The exhibit prompts questions from any casual visitor.
Multiple galleries await for those who want more. Skidmore Contemporary Art features Bradley Hankey's #instalite#losangeles, paintings of Los Angeles palm trees and architecture, as well as its Summertime exhibit, which includes Clay Vorkes' oil paintings of high heel shoes displayed like colorful cupcakes.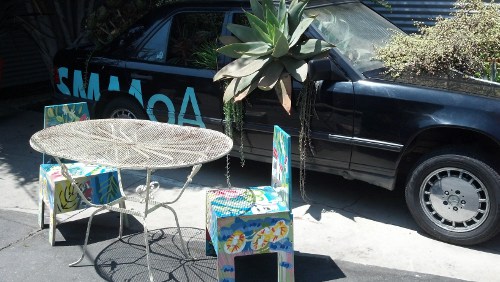 Photo By Zina Markevicius
The tag gallery offers Katie Crown's Swing, watercolors on paper depicting dancers with clownish faces. The series is reminiscent of the Getty Center's exhibit of James Ensor's later work.
Anne M. Bray is also featured at tag. Her On the Edge: US is a collection of postcard-size American landscapes, created from photographs digitally manipulated and printed on aluminum. When it is time for a break, the Bergamot Café offers a quiet place to relax on a shaded patio.
Perhaps the most unpleasant aspect of visiting Bergamot Station is finding the entrance. It's located on Michigan Avenue, on a street that does not attract drive-through traffic and feels like a wrong turn. From Cloverfield Boulevard, head west on Michigan Avenue and look for the red and white signs for Bergamot at the end of the road.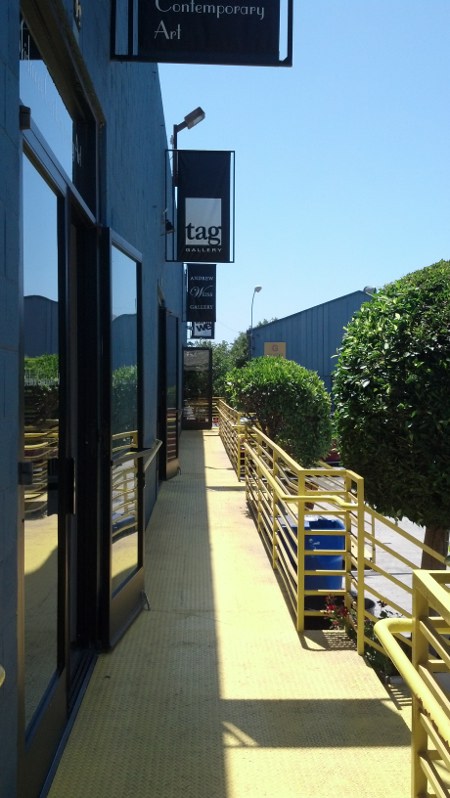 Photo By Zina Markevicius
I am glad that the work truck headed for the city's neighboring waste disposal site that honked at me did not scare me away. Some of these shows end Saturday, so there's only a few days left to view the works.
Bergamot is easy, different and nearly completely free. This is a great place to stop with the kids for an hour, to bring out-of-town visitors, or to just have a getaway in the city on your own. Best of all, Bergamot Station Arts Center will give you as much art as you want.
Bergamot Station Arts Center, 2525 Michigan Avenue, Santa Monica, CA 90404. www.bergamotstation.com. Open Tuesday to Friday, 10am to 6pm, Saturday 11am to 5:30pm.
Santa Monica Museum of Art, www.smmoa.org. Andrew Canon: Chemical Computer: through July 12; Nonfictions: Jeremiah Day/ Simone Forti/ Fred Dewey: through August 23; Robert Swain: The Form of Color: through August 23. Suggested donation $5.
Shoshana Wayne Gallery, www.shoshanawayne.com. Michal Rovner: Nofim: through July 12.
Skidmore Contemporary Art, www.skidmorecontemporaryart.com. Bradley Hankey: #instalite#losangeles: through July 19; Summertime: through August 30.
tag gallery, www.taggallery.net. Anne M. Bray: On the Edge: US: through July 12; Katie Crown: Swing: through July 12; plus additional exhibits.
Bergamot Cafe, www.bergamotcafe.com. Open Monday 9am to 4pm, Tuesday to Friday, 9am to 5pm, Saturday 10:30 to 5pm.